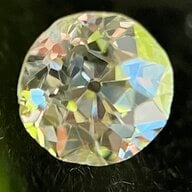 Joined

Dec 16, 2007
Messages

24,364
Okay, so I have been planning a jewelry project to celebrate finally getting a tenure-track faculty position and birthing an 8.5lb baby all in the same month

Was thinking of all kinds of projects -- eternity band, re-setting my solitaire as a halo, re-setting my solitaire as a three-stone, a sapphire RHR. I have agonized over this for the last few months! Which project should I do???? I'm so indecisive because I am cheap and don't want to regret anything.
Well today I looked my hubby in the eyes and said, "What should I do?" Well he looked right back and said, "You should get a bigger diamond because that is what you really want."
I love this man.
I told him this would cost a little more than we had planned originally, because we would be jumping the magic 1 carat mark. He said I deserved it because it was a pretty big job that I got! And a pretty big baby, I reminded him

So I had been eyeing
this
gorgeous 1.168ct K SI1
ACA
for a few weeks, fantasizing. I have a .80ct J VS2 right now.But here's the thing... is this size big enough to be really noticable? Should I upgrade now or should I wait, probably a year or more, and make a bigger leap, maybe to 1.3? I worry that after all this the new diamond will look the same as my current one

Will the new color bother me? I don't think so, but who knows?
Here is a picture from 777_LDY that just happens to show two diamonds almost the same size as the ones I am considering trading: a .78 and a 1.20. It looks pretty noticable to me...
What do you all think? I guess I need some enabeling