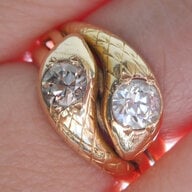 Joined

Feb 11, 2011
Messages

496
I purchased this lovely antique ring from a seller on eBay and I can't decide whether to keep it or not...:
http://cgi.ebay.com/ws/eBayISAPI.dl...7VS%2Fo%3D&viewitem=&sspagename=STRK:MEWAX:IT
I love the design (I've always been fond of the crescent moon and stars) however, the shank and underside is pretty worn down and the prongs look a little thin as well... They're holding the diamonds fairly securely and don't look like they need retipping or anything like that, but the overall ring has quite a bit of wear. The shank is strong enough to be worn, but I fear it will have to be replaced it I frequently wear it over time.
I love vintage and antique style jewelry and I know that most of these pieces come previously loved/worn, but I'm torn between keeping this ring since I think the design is beautiful and unique however I'm still worried about durability issues... I don't want to have to keep it in a box all the time since I'm afraid a stone might get lost if I wear it. I originally bought it to wear as a right hand ring.
I haven't taken photos of it yet, but I can take some in case anyone's interested. What would you do if faced with the same decision?