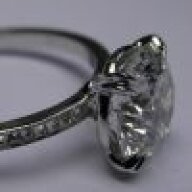 Joined

Oct 28, 2009
Messages

276
I came across this ring on eBay:
http://cgi.ebay.com/ws/eBayISAPI.dll?ViewItem&item=290543034450&ssPageName=STRK:MEWAX:IT
The ring also had a GIA report, so I thought it would be interesting to see what it scored on the HCA.
http://www2.gia.edu/reportcheck/ind...tVerification&reportno=5131020920&weight=3.53
Now, assuming for the moment that it is an authentic Tiffany ring, I ran the #s through the HCA and got a 5.7!
Factor Grade
Light Return Fair
Fire Fair
Scintillation Fair
Spread
or diameter for weight Very Good
Total Visual Performance 5.7 - Good - Only if price is your main criterion
Is this an example of the classic steep/deep? Would it be plausible that Tiffany would sell a stone of this cut quality?
Or is it more likely that the stone is not a Tiffany stone? But there is a Tiffany diamond certificate.
I'm not planning on purchasing this (obvious fish eye in the pics) , but I was just shocked at the cut quality of this stone assuming it is a real Tiffany. I've been looking at the secondary market for a large stone and the 2-3 Tiffany stones I've seen that also have had GIA certs all scored excellent on GIA/HCA.