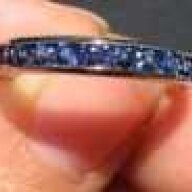 Joined

Oct 28, 2004
Messages

266
Just wanted to comment- I am trying to pick a sapphire band, and my husband and I went into Tiffany in Fukuoka, Japan yesterday to check out the different styles. I just wanted to say, the Japanese have definitely figured customer service out! I''ve been in Tiffany in Dallas, and felt snobbed out; I went to their stores in Tokyo, Yokohama, and Saipan but never asked to see anything. Yesterday, though, I asked to see several bands, and not only did they get someone who spoke English to help me, but she was completely friendly and not snobby or pushy at all. She let me look at every band I wanted to see, and basically let me play with and compare them as long as I wanted even though it was clear I wasn''t buying right then. I think the Japanese have gotten it right- they provide great customer service and don''t push, and people will come back or at least leave with a happy jewelry fix.

Seeing the bands in person really helped me make up my indecisive mind.

We''re going to buy from signed pieces, but couldn''t pick the style... I was debating between channel set rounds and shared prong, and eternity vs half.... I decided I love the sparkle of the shared prong and LOVE the round stones. The channel-set, round all-sapphire band was gorgeous, but from a distance it looked pretty dark because of the channel setting. I definitely like the look of all-sapphires much more than the alternating diamonds. Also, while I love the look of the eternity bands, seeing them in person made me realize I would worry about smashing it all the time so I am going to get a 9 or 11 stone band.
As a note, their prices here are insane. About double US prices- the Lucida diamond/sapphire band was over 9K for a size 4 ring, and it''s just over 5K for a size 6 ring on the US site. Their super-cool graduated Jazz ring was 4100 here, it''s 2200 in the US (and I think even that is too high). I know there''s import tax, but seriously.

Are they that expensive in their other international locations too?
I will admit though, I wasn''t blown away by their engagement rings. I have an
ACA
from
whiteflash
, and my husband commented on how much their rings sparkled- until I flashed mine at him under their lights.

It wasn''t even that clean and actually out-sparkled most of them, I was quite pleased.

Just wanted to share. I have heard some bad things about Tiffany in the US, but at least their Japan salespeople are getting it right!