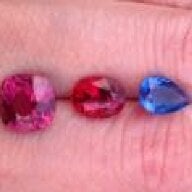 Joined

Mar 18, 2009
Messages

6,724
I've been lurking for a while, and finally have a project!

I am looking into having the 1/2 carat diamond from my e-ring reset into a three stone platinum and YG ring with 2 flanking yellow diamond pears. YG will be used only for setting the yellow diamond pears, and I would like the ring to sit against my plain YG wedding band. (I have sentimental attachment to the stone and wedding band.)

I've been discussing this with Leon Mege, and I was wondering if anyone who has done a similar project can give me advice on the process. I am leaning towards having Leon pick the side stones because I don't know much about jewelry design. Any thoughts? Is $2400 a reasonable price for the setting?