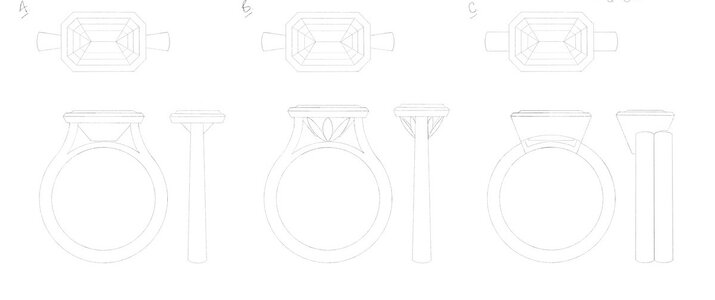 Hi all,
I appreciate all of your advice and help! I'm so stuck on which of the above to choose, what do you think? I have decided on an east west setting. The stone is 3.2 carats so I am conscious of having it as low set as possible. I will copy and paste email from jeweller below so that the drawings make sense. With option C, I do have the choice to leave the cut out and just accept that the wedding band won't sit flush.
Design A:
A minimal take on a bezel edged ring. From above the diamond is surrounded by metal but from the side you can see straight through the ring and around the sides of the stone. This is visually lightweight but might not
feel
quite secure enough if you were going to wear the ring daily.
The stone sits high enough for a straight wedding ring to slide underneath it.
Design B:
A more solid variation of design A. Instead of a solid wall around the stone a decorative side panel curves up and around it (I've drawn them like petals but they could vary ...). This gives more support to the stone while also keeping the weight of the overall ring down.
The stone sits high enough for a straight wedding ring to slide underneath it.
Design C:
I feel like this is the approach that you had in mind but sitting this kind of collet high up on a ring just looked messy when I drew it. So, I'm proposing something slightly odd: making a very classic looking ring
but
cutting away a section of one side of it. This will allow a straight wedding ring to slide underneath, into the gap. If you are thinking that you'll rarely wear the engagement ring alone then this could be a good approach. If, however, you think you might find yourself wearing just the engagement ring a lot then this could look a bit odd. It's all down to how you think you'll wear the set and whether having a gap in your engagement ring would bother you.
Many thanks!