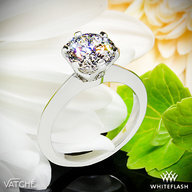 Joined

Dec 21, 2010
Messages

585
Frankly I'm having trouble locating the white inclusion with the magnified video, so there's no chance I'd be able to spot the inclusion unless I have a higher power reading glasses on.

@kal2021

- do you think you'd be fine with an H? If the thought of someone spotting the tiny inclusion bothers you, which clearly it does, perhaps you should wait for future stock for additional options, including a possible G? I'm thinking you'd probably notice a tint even on an H. Have you gone out to your local stores to verify your color sensitivity?
I'm not concerned with someone else seeing the inclusion, only with myself seeing it then not being able to unsee it. But I agree I don't see anything in the video. A G is not an option money wise at least not for many years and I want something different now. My last diamond was an H and while it was 1.23 and not 2 carats, I never saw a tint. So I'm truly hoping the H will do the trick! I like the smaller table on this stone compared to my current one as well.