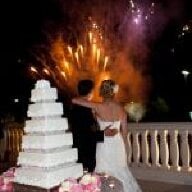 Joined

Jan 8, 2009
Messages

690
Anyone who has been with bf for like 5+ years.......have you ever gotten the "look" from people when you tell them how long you've been together?
I feel like people are so judgmental and always have to put their two cents in. Today at work, I was talking to a girl about rings. And I said "well he's had 8.5 years to save so it should be pretty good!" lol. And then this other lady I work with (WHO I WASNT EVEN TALKING TO!!) says "You've been with your bf for 8.5 years?" and I said "Yes" and she said "Dump him". I was like WTF?

So I said to her "We've been together since I was 15, so we are now just at an age where it isnt "creepy" if we get married. What was he gonna do, wait the 'protocol' 2.5 years and propose when I was 17??". I just hate how people have to be so opinionated. Its not like I started dating him at 27, and now I am 35 and I have to worry about my clock ticking. lol. The girl I was talking to originally about the rings goes "just ignore her. You have to look at where the comment is coming from....she is 37, never been married, doesnt have a bf, and lives with her parents. Its just bitterness".

Honestly I dont care what she thinks, but I find that so many people give you the "aww im sorry" look when you say you've been together for a long time. I wouldnt have it any other way. I love that we have shared so much of our lives together and have such a history, and I honestly couldnt marry someone I have only dated for 6months to a year like some people (not knocking it...just know I couldnt do that). Any other 5+ ers experience this? Why do people have to hate on us ladies?? LOL