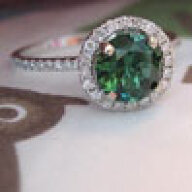 Joined

May 17, 2009
Messages

1,183
I'm in the beginning stages of thinking about an upgrade. My ring was purchased from a chain store (I know, naughty, naughty) that has a great upgrade policy. So for now I'm only entertaining the idea of doing an upgrade, not trying to sell my ring and then going elsewhere.
So my first stop was to look through their online inventory. I only searched for diamonds with GIA certs and then ran the HCA on any diamond that fell in a range. Needless to say, there were not many that fit the bill. Only three diamonds, in fact. I knew this was going to be a challenge, but oy! Another problem? All three of the diamonds with good HCAs are SI2.
So two questions.
1. Is this a good starting place? Looking through GIA certs to see if something catches my eye, etc.
2. Are the inclusions in this stone incredibly scary? They seems so to me, and this was the best of the three!
I can have a stone from the online inventory brought into a store to look at, but they require a deposit to do that so I'd rather be farther along in the process before I do something like that.
Maybe I should just stick with colored stones, lol