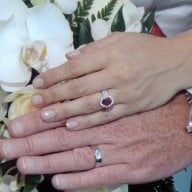 Joined

May 1, 2005
Messages

1,280
I moved to LA in January with my, then fiance. He is from out here and missed it. My company was opening a store here in the grove and I got a decent (if not underpaid promotion) to move out here. Well, it was an adjustment and i didnt really love my job at the new location.

A few weeks before the wedding, i found out about an opening at a luxury hotel. I''ve been miserably working there for nearly 6 months. I dont know if its just been the adjustment to LA, or if I really hate working, or if it is that i dont know what i want to do with my life..... but i''m miserable. My job makes me cry several times a week. I have no friends or life because of my terrible hours. And I am not at all fulfilled in my job.

I am about 50% sure I am going to put in my notice today. Its been a tough decision. I make SUBSTANTIALLY more $$$ than i am used to, but my quality of life is horrible. As a Department Manager I have a great team, but I am not part of any consistent team and I hate it. So other than the money, and the embaressment of looking for work....I''m done.

How stupid is it to quit a job without having another one. I''ve never had a hard time finding work, but this is LA!! Dont be too terribly harsh, I''m fragile!!!!!!!