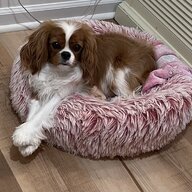 Joined

Aug 12, 2005
Messages

18,628
Are there certain items in your home that just have a way of disappearing mysteriously? We seem to keep losing forks and spoons. I've supplemented our Oneida stainless flatware once already--last year we hosted Easter dinner and I realized I did not have enough of each piece to set only six places, so I had to run out and buy another set! Now, a year has gone by and again, I have about 40 butter knives and maybe 12 forks and spoons, combined! I've searched the dishwasher, I've even searched DH's recliner just in case he's dropping utensils into it. No dice...I asked him if maybe he's accidentally throwing them away and he says no, so I don't know what is going on. It's like this strange phenomenon--is our house eating flatware? Is it haunted and some silly spirit thinks this is funny? I was glad to find that Target actually sells sets of 6 forks or spoons or knives, so at least I don't have to buy another set and end up with way too many butter knives.
Anyone else experience this? I mean, I don't mind replacing things from time to time, but WHERE are they going?

ETA: I'm thinking of picking up double of what it will take to fill in my existing flatware and hoarding the rest away somewhere in case the pattern ever gets discontinued...but I wonder if it will? It's a pattern I've actually had since I was in college about 7-8 years ago!