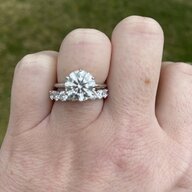 Joined

Mar 2, 2020
Messages

7
My husband and I will be celebrating our tenth anniversary this summer, along with welcoming the arrival of our fourth and final baby. So for the last year, I've been researching and planning my upgrade that he so lovingly told me I needed and deserved! While I'm a newbie here, I have read countless threads and greatly appreciate the wealth of knowledge on these boards!
My new rings arrived today and I couldn't be happier! In such a dark time around the world, having these sparklers on my hand gives me something to smile about!
Shout out to Becca at Whiteflash, and the rest of the Whiteflash crew! She was absolutely delightful to work with... and reassured me over the last week that everything would be shipping on time. We've been planning this project for over a month, and I placed the order before most of the COVID-19 restrictions went into place throughout the country.
Here's a little view of my 10 year upgrade!
Engagement ring is WF's knife edge setting with the "typical" PS modifications (softened knife edge, thinner shank to about 2mm, set medium height, I opted for dainty Tiffany prongs, and plat/Ruth alloy)
Center stone is 2.983 ACA J SI1
Anniversary band is a customized version of the "Kimberly" u-prong, made with 10 14 pointers (rather than the standard 9, opted for 10 in light of our anniversary). I requested the prongs be more "pinched" for a scalloped look. Tcw 1.4, in same plat/Ruth alloy
My ring size is 6.25 for reference
Please ignore my wretched nails... in desperate need of a manicure, but that won't be happening for quite some time!