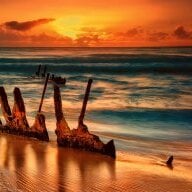 Joined

Aug 29, 2014
Messages

3,908
A spinoff thread!

As discussed previously, I find there are two different sides of feminism. I've discussed it pretty in depth with friends, and still find myself conflicted.

1) The new age - the Kim Kardashian style. Women taking control of their own bodies. Being comfortable posing nude. Not being afraid to talk about sex, or have it. Knowing that others lust after you, but being in control of it. Considering yourself equal to men in these ways - coveting/having/discussing sex. Anti slut-shaming.

2) The old school. Wanting to be valued for more than your body. Fighting for your right to vote, and be equal to men. Wanting men to hear what you say, rather than look at your breasts.

I find one is more focused on social issues, and one is more on economical issues. Women are still not making equal pay as men, but men are still telling women how to act. Is one more important than the other? Where do you fall?