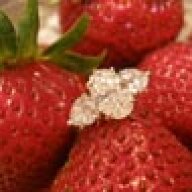 Joined

Apr 22, 2008
Messages

154
I don''t post often, but I have been lurking EVERYDAY for quite some time.

My bf and I have been together for almost 5 years, and have been looking at rings for about a year. He told me to find what I like and let him know, which I thought was great, as I don''t think he would pick out something that is my style (he is an architect, so he tends to like very clean, straight lines and I like everything to be soft and fluid).

Anyway, I have gone back and forth on what I want (it seems I want one of everything on PS). I finally sent him a few different options, thinking that he could decide what he liked best for me and then it would still be surprise.

This is where the problem comes in.....I didn''t know when he was going to buy the ring, but I think he already did. I thought I would be able to sit back and wait for the ring to see which one he chose BUT THE SUSPENSE IS KILLING ME!!! I am dying to look at his bank account (which is not out of the ordinary for us, since I handle his bookkeeping) because I could tell which one he chose by how much he paid.

I know, I am a brat for even considering ruining the surprise, but I don''t know how I can wait! I never thought I would be so obsessed. How did you LIW''s that knew it was coming handle the suspense?