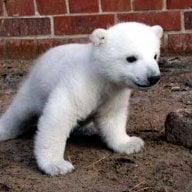 Joined

May 23, 2006
Messages

1,899
Date:

1/17/2007 12:46:26 AM

Author:

Officers girl

Date:

1/17/2007 12:26:55 AM

Author:

poptart

Date: 1/17/2007 12:04:28 AM
Author: Officers girl
On the draft note I pray it doesnt come back!! My Fiancee has done three tours to the middle east and the lack of training and appropriate gear given to the soldiers is astonishing!! Adding more people with less training will just be a whole nother mess that would bother most military families as I wouldnt want my soldier backed by someone forced to be there.

Eeek! Three tours, that has to be horrible. I agree with what you said, too. If the draft came back I think it would be really unsafe for everyone because the majority of those drafted would not want to be there and would be looking for just about any way to get out (I know I would). That being said, it just makes me wonder why, once you sign that military contract, is it SO hard (read impossible) to get OUT of the military until your time is up? People seem to think that if you sign, it means you want to be there, when really that isn''t always the case. It would seem that the military would be concerned with keep troops happy as well, because happy troops do better work.

*M*

There are actually lots of ways to get out only they all involve a dishonorable discharge. We have seen people do drugs, rape and one assault someone into a coma just to make sure they didnt have to go to iraq. The 101st airborne (We are at Ft. Campbell) Are gearing back up to deploy and you are already starting to see this happening. I realize the military will never start allowing people out of there contracts because retention is already low enough. I only wish that people would really weight the decision to join.
Yes, we have seen the drug thing, bad way to go. Rape, now that''s just unspeakable. It''s just comical to me (in a dark, completely NOT funny way), that they rarely even discharge for medical reasons. My DH is in the Navy and he''s gone deaf in one ear from his line of work. They''ve done countless medical tests etc., and he took his separation leave last August, and he''s STILL in the Navy. Now granted, deafness is not nearly as bad as what most troops have to deal with, but it''s the only viable story I have. Anyway, his discharge papers are just sitting their until they feel in their good graces to let him sign them and end this fiasco. It''s just very frustrating for us, as well as for any troops that regret their decision to join. I understand the retention issue, but a bunch of angry men with guns who want to go home... sounds dangerous to me. Of course, my opinion is very badly tainted, but nonetheless. I guess I''m not a military minded type of gal!
*M*