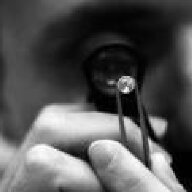 Joined

Oct 7, 2015
Messages

5
Hi
I've been looking/searching on this forum for around a week now, have been looking for a e-ring a little longer.
I'm not a newb to the world of diamonds, my job involves me in both the rough and polished process of these wonderful shiny rocks, but mainly rounds. I only see cushions on a rare occasion and therefor i need some help.
I'm on a budget, around 4500$ (4k€), as setting i was thinking about this one from
B2C
(Any thoughts about this? Cant seem to find pictures of people who have this setting)
Thats leaves me with around 3000$ to find a stone, i would like to stay above H- color and Si1-clarity, eye-clean ofcourse, no black inclusions. I'm having a hard time with this and i'm becoming a "little" impatient. Any help/suggestions would be apriciated, i realy wanted to be able to provide a full carat for her but in the end it's all about the mm and face up size.
Thanks
Ps: I obviously look around in the sector where i work too, although this is dificult because my lady and people we know work here and... people talk (too much) Keeping it a little bit of a suprise is pricelesss to me.
Ps2: Sorr for any misspelling, English is not my native language, i tried my best