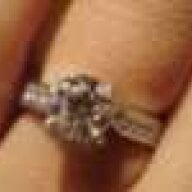 Joined

Mar 21, 2007
Messages

471
Hello everybody!

I'm a Newbie here but have been lurking around for quite some time now.
I know i shoudln't get soo excited, but I can't help myself!

After eight years together, and many of them talking about never getting married.....The Ring has finally been ordered and now I have to figure out a way not to go crazy for a month waiting for it! I guess he is more traditional than he let me believe him to be.

It will be set in 19K white gold with a Snowy Owl Canadian Diamond, .90, G colour, VS2, SUPER IDEAL AGS 000 rating with the perfect hearts & arrows!
(Its so cute. It even has the laser engraving of the little owl on the side)

It probably would have made more sense to start looking at slighly more economical stones, but oh well. After seeing my first few stones, I realized that I had already made up my mind and had my heart set on a CDN diamond with the AGS000 rating there was no turning back. I think watching the movie Blood Diamond encouraged me to support the local diamond mines. So my compromise was a slightly smaller stone but better cut. Hopefully I made the right choice.

I'll post hand pictures as soon as we pick up the ring! 30 days and counting!!

Thanks for listening!!!