Joined

Nov 9, 2006
Messages

423
I just want to start off with a little thank you to all of you who helped keep me sane during my time of waiting. A little disclaimer- this post may get a little long, so if you don't want all the details just scroll down to the pics… they should speak for themselves.
A little bit of background- Basically, I am a 22 year old grad student and have been planning this proposal for almost two years. I had the ring custom made from WF almost 4 months ago and the wait was excruciating.
We left for the Dominican Republic on Saturday and arrived at the resort (1-3). It was utterly amazing, starting with being greeted with a drink right at check-in. The first night was kind of tough with the big plans for the next day running through my mind, but I tried my best to stay calm and relaxed- it was my vacation too after all.
Before I knew it, it was Sunday …the big day. I couldn't believe it had finally arrived. The day began on the beach . The sun was out and I could not have asked for a more perfect day. I must say though I was definitely uptight (although she said she couldn't tell), constantly checking the time and trying to make sure everything was set just right.
The setup: Several weeks prior to leaving I nonchalantly suggested that we walk on the beach and get dressed up one night. She agreed that it would be quite romantic and "we" decided the second night would be best. I even got her to suggest that we get a picture on the beach (I already planned on all of these things but it was less suspect to make her feel like she came up with the idea). She even mentioned our "dress up" night several times before we even left just to make sure it was still going to happen.
We left for our "beach walk" just before 6:30. I knew the sunsets there were right around 7 so I "dilly-dallied" around when I was getting ready to make sure the timing was just right. Picture me trying to pretend to be interested in some goofy Spanish shows to make sure we didn't leave to soon… kinda funny looking back. As we left the room, I told her I forgot tip money in case we got a drink or later and needed to run back into the room (I'll get back to why… but keep this in mind). Once we reached the beach I knew it would be smooth sailing. The stars were aligning and everything was going right as planned. We walked about a quarter mile down the beach, and I picked my spot. I found a couple who spoke English (harder than you might think) and handed off the cameras. I instructed them that I was about to propose and that my g/f was ready to pose for a picture. I asked if they could take one shot, but then keep shooting during the course of the proposal. Of course their eyes lit up and as you can see the shots below, it was just amazing (4-7).
The speech was something like (I rehearsed it so many times): "I just want you to know that I feel like the luckiest guy and the entire world. I love you so much, you make me so happy, and I want to spend the rest of my life with you. I guess what I am trying to say is…Kristen Lynn _____ *down on the knee* will you marry me?" I was surprisingly nervous and my voice was a little shaky, but she said yes through a flush faced smile with tears welling in her eyes.
Afterwards, she asked if we could sit down and for me to repeat what I said because she basically went into shock and couldn't comprehend it. We both sat staring at the ring and talking on the beach for a few minutes basking in bliss, but in the essence of time I ended the moment with "Honey it is a very beautiful ring, but unfortunately we can't eat it and I'm really hungry." (I had booked us a private dinner for two and wanted to make the reservation).
We strolled back to the resort holding hands and smiling… I was loving every moment. Back in the resort we approached a private gazebo just before sunset. I suggested that we eat here… she, still not getting it, responded- "I don't think we're allowed to honey… what are you doing (as I'm taking pictures)." Well, as we were being seated, she eventually got it. "I can't believe you" became the phrase of the night. We had a wonderful candle lit dinner complete with champagne and music. People kept walking by stopping and staring, some even took pictures. It was truly amazing… (8-14)
After dinner we stopped and lay next to each other in some pool chairs staring up at the stars. It was a night full of perfect moments. Eventually, we made it back to the room where she discovered a bed covered with rose petals (15). I had actually ordered them and brought them with me. Remember when I ran back into the room before dinner… I placed down the rose petals and got the room just right. The resort was nice enough to give us a complimentary fruit tray (16) and even the maid got in on the action with a decorated a towel (17). After she sat staring at the ring (18-20) and we both called our parents (who already knew of course), I gave her some bridal magazines (21) to look at on the beach the next day. Of course she said it was the perfect proposal and I don't know about all that- but I must admit- it was pretty darn good (22)…
#1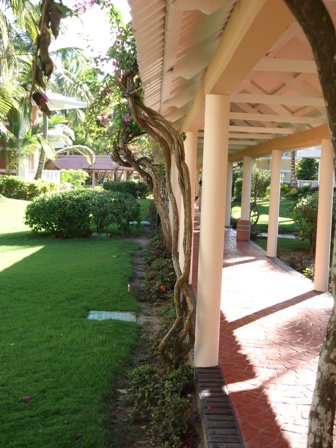 #2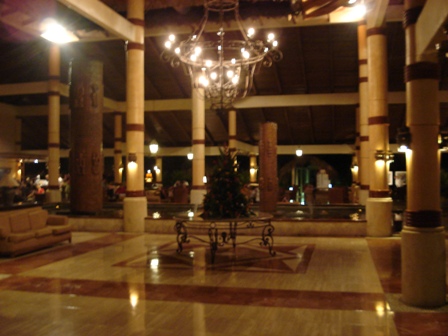 #3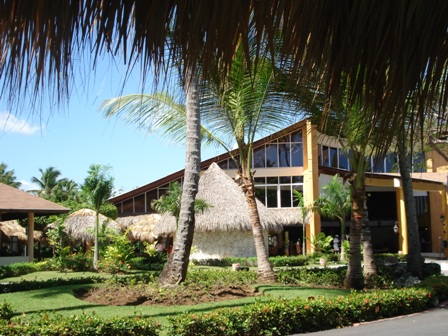 #4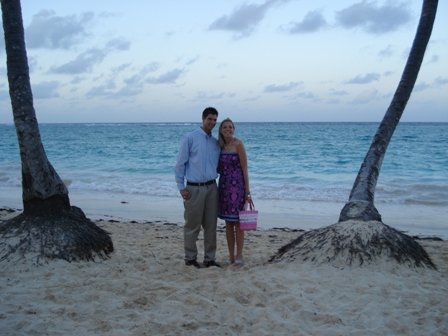 #5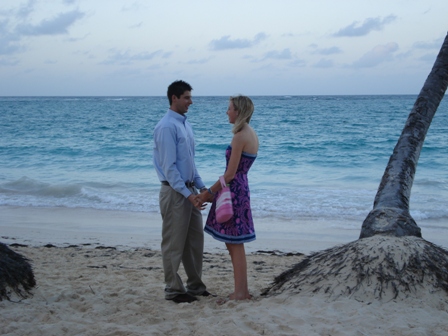 #6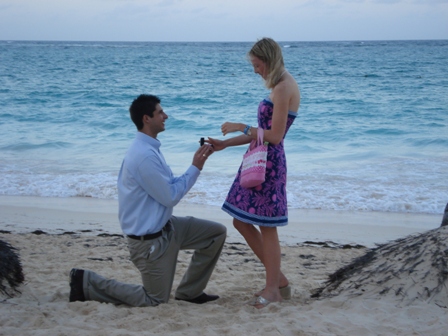 #7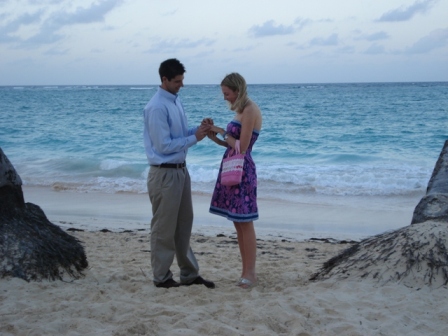 #8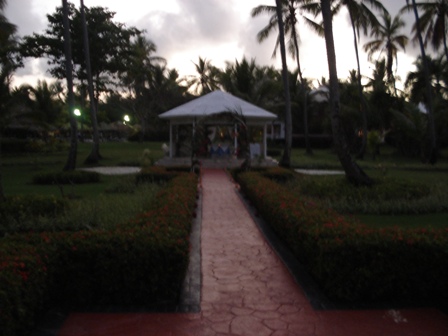 #9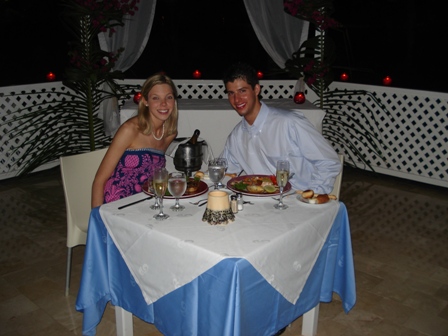 #10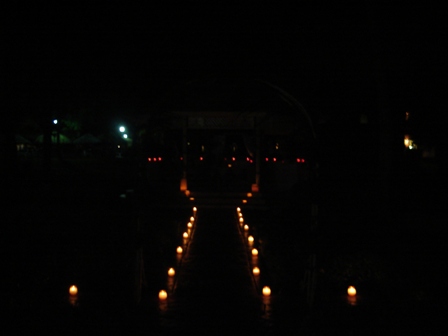 #11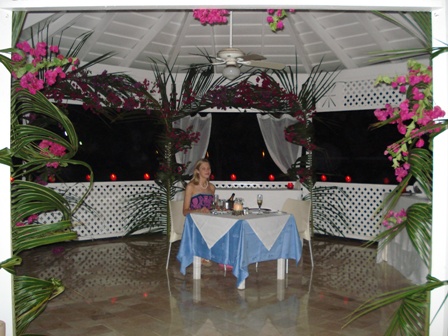 #12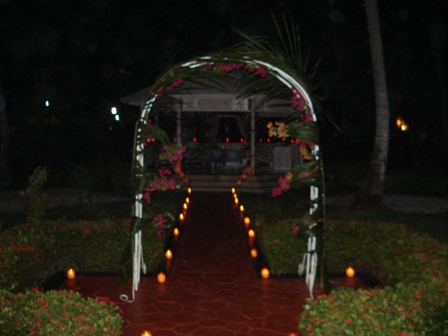 #13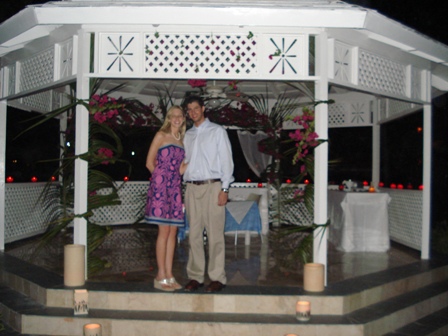 #14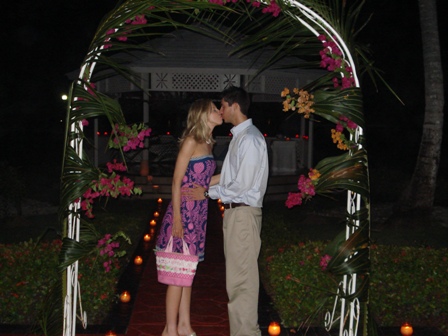 #15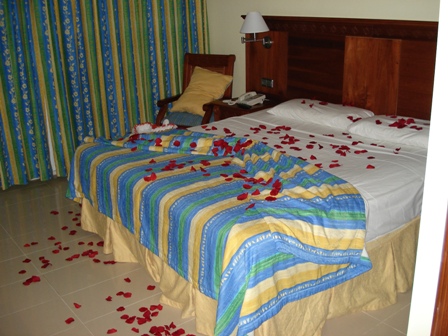 #16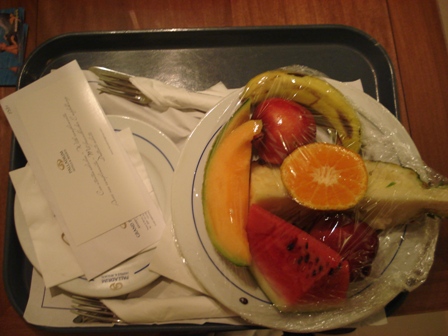 #17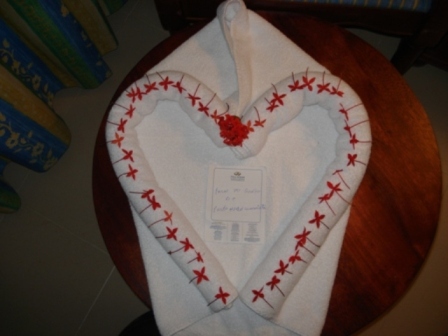 #18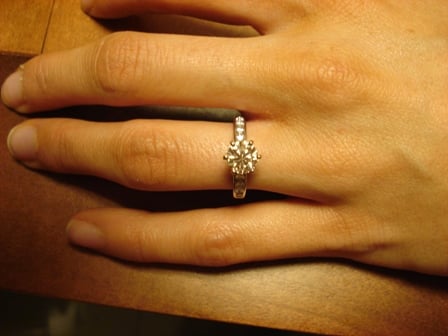 #19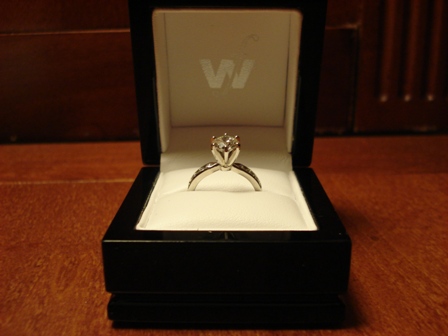 #20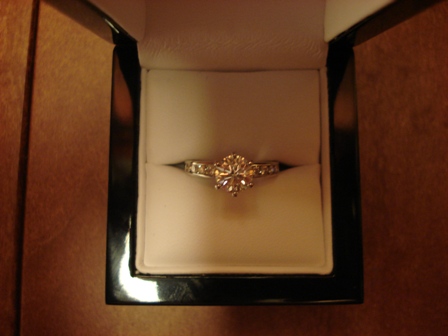 #21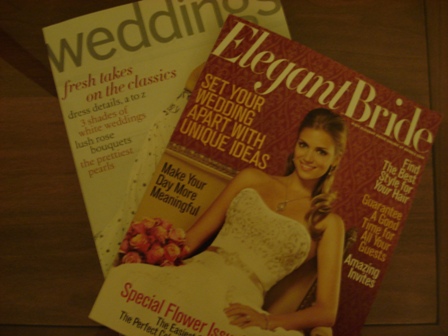 #22