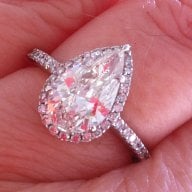 Joined

May 23, 2010
Messages

6,731
We went to the Smithsonian* a few weeks back, and I saw the original DeBeers ad campaign, "A diamond is forever". I was surprised the ad is so artistic and attractive. I love the graphics.
Here's the copy:
"Where is the storehouse strong enough to store the treasures of the heart — the soaring joy of a love-enchanted world — the first intent awareness when soul calls to soul? Her engagement diamond is a drop of magic flame fashioned through eons to preserve such scenes and memories in its shining lights. Safe from all harm, clear to her eyes, there she will see them always."
I loved the copy, which seemed to be one long, run-on sentence, full of carefully picked words and phrases, but that really did seem to continue, without end in sight, for quite some time, into the distance of memory, until the mists of time shrouded their meaning . . . (see what I did there?

).
I also took a picture of the little price guide on the side of the display. Don't you wish we still had THOSE prices with today's dollars? Hellllooooo 10 carat!

I didn't spend too much time on the photo, since the display was near the much-needed cafeteria, but here it is.
Waddya think?
Is this the thought that launched a thousand ships? Like it, hate it? To those that have read novels contemporary to that time, do you notice how even speech has trends and fashions? I always thought that was interesting.
*Thank you to everyone that helped us with travel info!!