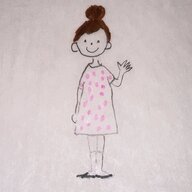 Joined

Feb 2, 2016
Messages

8,297
I thought it would be neat to have a thread to bring back the good old days, whatever period that may be for you. This thread is dedicated to your favorite toy(s) growing up, that favorite record, maybe a shirt you still have from your first concert, really anything that brings back fond memories.
I'm a sucker for those lists of toys you had growing up that you see on Facebook, and sometimes you come across something you forgot you had but absolutely LOVED back then. That's what I hope might happen here.
So, let's let the good times roll!
From the top:
Popples
Rosebud doll
My Child Doll
Cabbage patch kid
The Popples aren't mine but the others are and in fact the Cabbage Patch Kid was given to me in the early 80's and I still have her in original outfit and all!