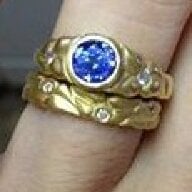 Joined

Jan 23, 2008
Messages

3,532
So...I''m about to drop over here. I''m in OMC heaven. I WANT THIS STONE! I''d take the whole ring if I had to...but this stone is worth BEYOND PERFECT! I''M IN LOVE



Do you think they''d take my right arm, 2 dogs, my car, and my truck for it?

Here she is!
http://www.doverjewelry.com/catalog/vintage_engagement_rings/antique_art_deco_398ct_diamond_engagement_ring.html











I promise my fellow PSers...I will own a stone like that. Not that size (I wear a size 4 and I''d like to see at least SOME of my finger....) but my upgrade WILL me an OMC that looks like THAT! I NEED IT! I HAVE TO HAVE IT! I MIGHT CONSIDER SELLING MY SOUL!

Well, okay, maybe I wouldn''t go that far

But MAN! It''s to die for!