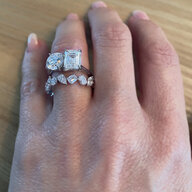 Joined

Aug 16, 2012
Messages

75
Hey Fellow Diamond Appreciators,
I thought I'd show you the full evolution of my e-ring's journey, and I blame all y'all for it

We started with a 2.02 emerald cut with balanced tapered baguettes with 0.44ctw. I then get greedy and boosted my baguettes to 0.88ctw. At the time I wasn't bothered that they weren't tapered, that was a miss on my part, and me trusting the jeweller at the time. I wish they were tapered and not straight. But then I get obsessed with traps, and add those to the mix, they are 0.78ctw. Sigh, 6 years of adding, and I think I'm done.... unless.... what do you guys think of halos?