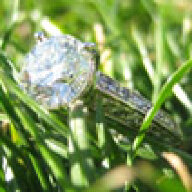 Joined

Feb 20, 2009
Messages

63
We''ve seen many 2.0 ct diamonds with what PSers deem as horrible proportions. We''ve also seen <1.0 ct diamonds with ideal proportions. We can debate what''s horrible and ideal...

...However, the end result is not debatable as these 2.0 ct diamonds are cheaper than the <1.0 ct diamonds.

This got me thinking...

Do rough diamonds cost differently, if they are of the same size, color and clarity?

What''s the reason for a cutter to cut a diamond of ''horrible proportions''?

I imagine that from the rough diamond, the cutter could have easily cut a better proportioned diamond. By cutting a ''horrible proportion'' diamond, they fail to maximize their revenue/profits because the diamond is sold at a lower price.

Is it because the cutter flat out screwed up?

Example...say a rough diamond cost a cutter ''x'' amount of money. That cutter can cut an excellent diamond and sell it for ''10x'' dollars. On the other hand, the poorly cut diamond can only be sold for ''3x'' dollars. Isn''t this screwing their own investment on return?

I must be missing something here...