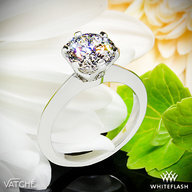 Joined

Dec 21, 2010
Messages

585
Dreamer, I cannot thank you enough for your topic in RT asking for Ebay help regarding a store called Oak Gem! I had never heard of them before, but I used the link you inserted to check them out last night and behold, my DREAM (coincidence that I found it via Dreamer?!) diamond wedding band!! It's the Tiffany seven stone shared prong platinum and diamond band (.56 ctw) in exactly my size (4.5)! Meant to be, right?! I saw it last night, hubby said go for it, and I woke up early to call right away (I almost freaked out when my cell kept dropping the call!)! I get it on Wednesday and I am SOOOO excited!! I already have a wedding band (the Novela from
BGD
), which I really like, but this particular band has always been #1 on my list, we just didn't want to buy it at full retail price. Thanks to Oak Gem, we got it at about 43% of the actual retail price! Since we are already married, I think we might call it my "marriage band" instead of my wedding band!
Let's just hope it's legit! Based on people's comments about the store, though, I am not really worried.
BTW, does anyone know how much Tiffany charges to polish and check prongs on this type of ring?
Thanks for reading, everyone, and THANK YOU, Dreamer, for making one of my dreams come true!! Now if you can just find me a perfect 2 carat ideal cut diamond at 43% of the actual retail price I'll write you into my will!