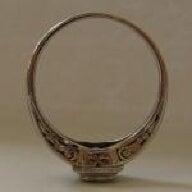 Joined

Jun 20, 2006
Messages

2,822
Hi,
I''ve been poking aorund at some of the semi-precious gem sellers on Ebay, mostly the very cheap ones based in Thailand. I seem to remember that a few people here have bought from them before.

Does anyone have a seller that they love or hate? How is the quality of what you bought?

Obviously I''m not expecting anything that''s very nice for $30 or less. I''m learning how to bezel-set gems and thought it would be fun to buy a few sapphires and play around. It''s obvious from the pictures that the gems tend to be included and have wierd rounded pavillions- probably to retain carat weight, but has anyone bought some and thought they were pretty?

Thanks!