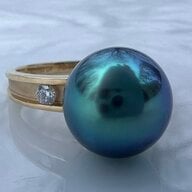 Joined

Jan 14, 2004
Messages

1,432
Came across this term from a Chinese vendor (that I trust), Googled it but could find little information.

Fortunately I can type/read Chinese, which really helped in this case. I located the source, the Pearl Science Laboratory (PSL) that issues Hanadama certificates, and found the official definition: http://www.sinjuken.co.jp/image/en.pdf

The rest of their website was in Japanese, I read the pages to the best I could (with Google Translator of course). Very intriguing.

From what I could understand, to be certified as Ten-Nyo grade, the pearls must be first certified as Hanadama. They are then tested again for Tennyo grade. So the cost of Tennyo cert is high due to this process.

So my fellow pearl lovers, have you heard about Tennyo pearls? Or better yet, have you seen them in person? Are they truly prettier than Hanadama?

On an unrelated note, I wonder if there is any difference in the rate of yellowing, for "Pinked" akoya vs. "Natural White" akoya?

Thanks in advance for any info you may share!