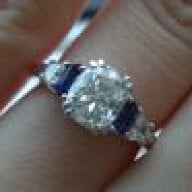 Joined

Mar 2, 2008
Messages

1,749
We drove up to Round Hill in washingtonville, ny this weekend. Despite a surprise snow shower, the ride from NYC was fairly painless-about an hour total. The house has a strong "house" as opposed to "mansion" type feel. Wide sweeping porch into a main entrance with a steep set of stairs to the bridal suite. The lay out has about three small rooms, about 15''x25''(?) that are utilized for the cocktail hour. The bar is in another room by itself, on the way to the outdoors. There, they have an average sized, covered deck that can be heated for outdoor space year round. From there, there is a circular garden pathway. (Not much to look at in Feb. in the north east) Still, I bet it is very pretty in the spring/summer months.

The dining area was set for 170, which seemed perfect. I can''t imagine more fitting though. The tables were all very close. For example, as we sat at one table, we could overhear conversations very easily. The dance area/alternative indoor ceremony space is very pretty. The ceiling is painted a light blue like the sky. Lots of light. However, despite the 5 doors that open between the dining area and the dance area-there is no denying that it IS a separate space, removed from the dining.

A friend had her wedding at a venue where there was a similar set up, and there was little to no dancing. We had fun, it was enjoyable etc...but I really see dancing at my wedding and that was the biggest concern visiting this location.

The food was tasty, we were offered various appetizers on their menu, hot cider, Yellow Tail merlot or chardonnay (the only 2 wines that they serve) though we learned we could supply our own wines for a corking fee. Not sure what the fee is. I have to say, those are our two least desired wines. Meh.

So, overall we didn''t looove the place, but as a compromise of lots of details the place is nice and seems to offer a lot for the price. This was the first place we''ve visited, and it was fun to feel like we are getting the ball rolling finally.

DF actually exhaled on the ride home saying, " I''m starting to get it. We''re throwing a party. It''s just like any other party, we just happen to be getting married that day."