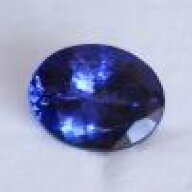 Joined

Aug 30, 2016
Messages

6
Hi PS! I've enjoyed the advice and expertise on this site!

I'm familiar with diamond grading and lab reports (I'm not a jeweler though!) but colored gemstones are quite foreign to me. Normally I wouldn't consider buying loose colored gemstones ever but...

I work at a small private university and there was a lady who willed her jewelry collection to the school. In her collection was a selection of loose Tanzanites, which are a very deep blue color. From my limited knowledge, these are higher grade stones than the lighter, more pale colored Tanzanites. Whether they are "investment" grade stones I'm not sure, since the only "investment grade" physical items I own are gold, silver and platinum bullion.

However, they did a fundraiser at a local jeweler in my town and these were left over after the sale, along with smaller rings and settings and such. Now the school is selling them at deep discounts. The original purchase stickers on the Tanzanites are still on the display boxes and most are 5 carats or more, ranging up to over $8,000 in price from wherever she bought them. I spoke with one of my co-workers who is helping with the sale and said they'd be willing to sell them about 90% off the ticket price since they just want to sell them off. The other factor is that all money raised goes to our scholarship fund for our students.

They do not seem to have any certificates or lab reports, however when they sold them at the local jeweler he did inspect all the gemstones and at least to him, they were genuine.

Am I crazy to think about buying one or more? I would look then to resell I think, unless my wife wants some really expensive jewelry! I realize that a resell value to a jeweler with no lab report looks pretty sketchy and wouldn't fetch $8,000 but hopefully more than I would pay for them. If I make enough I may keep a smaller one for myself, they are awful pretty.

I'd appreciate any thoughts that can be shared. I have no photos, unfortunately but they look just like the rich, deep colored photos you'd find on GIA's website.