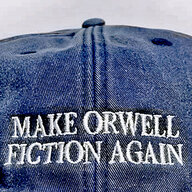 Joined

Apr 30, 2005
Messages

32,500
My best friend just Skyped me to tell me she's having surgery soon to remove a cantaloupe-sized tumor from her uterus.
They are also removing her uterus and ovaries and associated parts.
While she's on the operating table they'll biopsy the tumor and if malignant they'll closely examine nearby parts and remove anything else that may look affected and start her on chemo.
So, what are the odds of a tumor of that size in that location being cancer?
99.9%?
50%?
10%?
1%
I have no idea.
I didn't want to ask
her
because if it's 99.9% percent perhaps they have not told her that.
My SO is guessing it is cancer so I hope he's wrong.
I want to know, and am prepared for, the truth.
I'm beside myself.
I don't want to lose her.
She was right there for me when I had prostate cancer surgery a few years ago.
UGH!