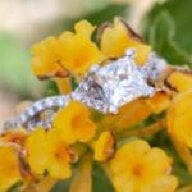 Joined

Mar 25, 2011
Messages

247
...I'm engaged!!!
My now-fiancée (!) and I went away this weekend for a late 7 year anniversary celebration to a beautiful inn in San Diego. For Saturday, we had a fantastic day planned of wine-tours and dinner at a top-rated restaurant, and it really did turn out to be the perfect day. The inn we stayed at offered a package deal of 3 winery tours and tastings in addition to a picnic lunch of cheese, fruit and desserts. Well, after a wonderful lunch and afternoon of wine tasting, we returned to the inn and found the perfect place on the grounds to lay down a blanket and enjoy our picnic. I had known that at some point, he was going to give me my late anniversary present, but with the recent purchase of a new motorcycle, I wasn't 100% sure I could expect a ring (but as you ladies know, I had my hints...
). Well, he was extremely sweet and playful through the whole picnic, and when I was about to open our dessert platter, he put his hand on mine and said that I should wait, he wanted to give me my anniversary present. He paused, and then told me that "I should stand up for this." Obviously my heart started racing, and he said "I think I should be on one knee for this." And then he pulled the box out of his pocket, slowly looked up at me... and asked me to marry him!!! I cried, and then cried again when he told me that he had called my parents on Thursday night to ask them for permission (I honestly did not think that he would do this, but it's everything I wanted!). And then I cried again when he dialed my mom for me and handed me the phone so I could tell her. Everything was just so perfect and I don't have a single doubt in my mind that I am the absolute luckiest girl alive.
And now for the bling!!
0.73 ct Princess (which he picked based on the fact that he's always calling me his "principessa"
)
VVS2 clarity, H color
The setting is from Verragio's Insignia collection, 0.30ctw ; I'm crazy about it! I especially love the 3 surprise diamonds on each side!
I apologize for the bad cell phone pictures; I feel like yellow light/quality of photos don't do it justice. I can't believe how sparkly it is! More to come, I promise!

http://i980.photobucket.com/albums/ae283/asymons412/2011-04-23_17-06-51_228.jpg
http://i980.photobucket.com/albums/ae283/asymons412/2011-04-23_17-06-59_705.jpg