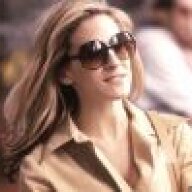 Joined

Jun 16, 2005
Messages

470
Eeeekkk!! I was beginning to think I would never get to say those lovely words, but on Friday evening I was engaged! I took a million pics, all of which turned out fuzzy. I''m borrowing another camera for tonight to find some good shots. It was wonderful...

Obviously, for those who have followed my story you know I''ve been wedding planning minus ring for months now and the reasons behind this. We found some financial help with a 0% credit card- Amen!- and ordered the ring 2 weeks ago. It was my dream ring and I was thrilled... but, I wondered if all this time of me pushing him along and now wedding planning with everyone knowing would spoil the engagement aka take the thrill away. Nope!!

I walked in the door Friday night and there were a million candles in our house and a trail of rose petals leading to a vase full of red roses. The television had the phrase "To My Future Wife" with cheers highlighted. I was given a glass of champagne and told to play the dvd. He came around and sat with me as we watched a beautiful dvd he made with pictures from the last 2 1/2 years we''ve been together with our song for the first dance at our wedding. Yep, I''m holding back tears AND surprisingly really nervous. At the end of the dvd it said "Will you marry me" at which point in time he got down on his knee, pulled out the ring, and asked me to marry him! Of course THEN I cried- we sat and drank some champagne and enjoyed some truffles. Then we headed off to a wonderful dinner where we celebrated again as our waitress brought us some complimentary champagne and chocolate lava cake. We finished the evening snuggling, watching Jerry Maguire with our dogs and some... other fun stuff!

Here are the details on the ring:

1.06 cushion in a pave halo setting
The setting is 123 diamonds- total weight .5 carats
Cushion is E, VS1 with a gorgeous cut- it sparkles like MAD!

Thanks gals for all the support over the year plus I have been on... I''ll be around to see you all OFF the list! Posting pics soon!