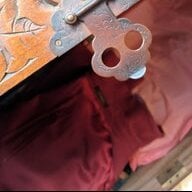 Joined

Oct 8, 2011
Messages

662
Hi again

I have been struggling to decide if i should get the PP ombre or Tahitian charm bracelet. But the more i look at the pics here, the more I am drawn to necklaces. I think it is the luster and colors, especially the dark body with peacock and aubergine that are calling me.

Need help please...

1) the thread on glamour shots vs IRL shots is very useful. It seems in some posts that the pearl colors are lighter (or less intense?) IRL. Or is it just a matter of lighting?

2) apart from the obvious difference in shape, are drops any different from rounds in terms of luster and iridescence?

3) would dark body tahitians pop on asian skin? (Golden SS look dull on me. On the other hand, akoyas with rose overtone pop)

4) have anyone regret getting a strand of drop instead of round?

THANK YOU.