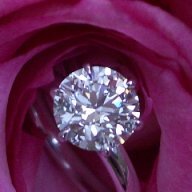 Joined

Apr 18, 2006
Messages

409
I think I came across an old thread on this a while back but I figured I''d just start a new one. My sweet fiance got me the blowdryer recently along with the T3 hair straightener bc I was telling him benefits I''ve researched on the T3 technology and bc this one shopper at Sephora saw me glancing at it and raved to me how much it has changed her hair. I already had a Chi straightener but I''m really lazy and actually do not use straighteners very often-- once a month I''d say but I''ve always liked my Chi but the fiance did not know that and just went ahead and bought me a new one along with the blowdryer.
Well, the point of my post is that I LOVE the hair dryer-- it is the T3 Evolution (which has more speeds than the regular but not too different I don''t think) and I don''t even NEED either straightener anymore really. So I already have relatively straight hair but when I air dry it gets somewhat wavy but not in a good way and just somewhat unkempt so I air dry on weekends but always blowdry during the work week or evenings out on weekends. I have thick hair that usually takes forever to blow dry so that''s another reason why the fiance thought it might be worth the money if I can sleep a bit more in the mornings.

It paid off bc I''ve used it for a few weeks now and it really cuts down my blowdrying time (which I was counting on) but I didn''t realize that it would actually help my hair fall into place more and it''s just straighter and smoother in a way that only the pros can get it when I get my hair done at the salon.
this probably sounds like an ad but it just really worked out so I wanted to share with you guys who have been so helpful. I imagine it''ll be dif. for dif. people and hair types but I''ve had a good experience. I actually wouldn''t recommend the T3 straightener though-- bc the dryer has worked so well I feel like the straightener is somewhat redundant now and doesn''t really work too much better than the Chi if I really still want to use a straightener. It''s the wet to dry straightener but I''m also not too comfortable putting that thing on my hair unless it''s practically dry -- mental thing I guess.