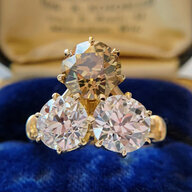 Joined

Jul 23, 2012
Messages

19,955
So I found a spinel ring and the color looks soooo promising but I have some conflicting thoughts about it.

It's a lovely periwinkle lilac color. Seems to shift blue to purple tones. That doesn't seem to be a common spinel synthetic but I know they can be any color. It's not that normal fake blue you see.

It's in one of those cheap looking 10k gold, thick pronged, ugly settings you often see when people ask if their 20ct alexandrite is real.

It isn't huge, and I think in one of the photos I see an inclusion.

What do you think? Worth getting home? I'm disinclined to post pics as you can understand. I'm not even sure I could get it tested within a return window.