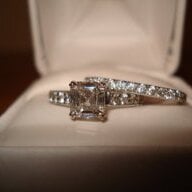 Joined

Sep 30, 2008
Messages

736
Does your SO ever do something totally out of the blue that takes you by surprise and just oozes with cuteness?!

K has been working on some projects around the house today and was in the middle of fixing a leaky faucet. He had to run out to get a wrench but when he hadn''t returned nearly two hours later, I called to check on him. He said the store was packed (hmmm, at 9pm?). Well apparently, he was doing a little more then getting a wrench...he just walked through the door with a little boy grin on his face and a huge purple Easter basket in his hands! I haven''t gotten an Easter basket since I was like 10! The best part is he filled it with healthy snacks (because I''m on a diet) like granola bars, weight control oatmeal, and since we haven''t had dinner...my favorite sushi roll from my favorite restaurant! What a cutie! I half expected to see an engagement ring sitting in the middle of all the green grass...haha (only an LIW would have a thought like that)

Anyone else wanna share a cute story???