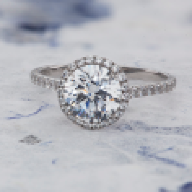 Joined

Nov 6, 2015
Messages

13
Hi Pricescope community!

I've been lurking behind this screen for months anxiously awaiting the moment my bf would be ready to propose. I'm very excited to come out of the shadows and share my great news!
Even though we had discussed an engagement there was no concrete talk about how,when or where. My smart future hubby

did his homework searching through my pinterest page and of course researching my "subtle" hints and picked out my dream ring!!
I've been stalking PS for months deciding which style of ring I preferred. After much consideration I decided I wanted a very delicate halo due to my field (can't have a huge ring

). I looked up LM, VC and SK and ultimately fell in love with this SK halo even though VC Emilya was a close contender.
On Wednesday night after work on our usual walk home we took a detour through the park near by. Under the Triborough bridge with the beautifully lit manhattan skyline behind us he got on one knee and asked me to be his wife!!

It wasn't an over the top engagement but it was the most special moment in our lives. The park has been a part of "us" it was where he took me on our first date. The moment could't have been more perfect.
After two amazing years as a couple we're both ecstatic to be moving into a new stage in our lives. Choosing my dream ring my FIANCE

showed me once again that he would do anything to make me happy. AND boy am I happy
Without further ado here are some of the pictures. First the vendor pictures: