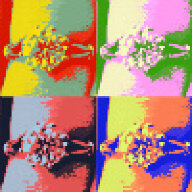 Joined

Nov 9, 2007
Messages

416
Hi everyone!
I haven't been around in ages and I've been meaning to post photos of my wedding (from almost a year ago, so hard to believe) but we all know how life gets hectic sometimes!
But I did want to share with you guys these seriously, seriously cute shoes. It seems that you pick out the shoe of your choice (in white, I would imagine) and send it to her and she will hand-paint it with a design or your names, dates, etc. A friend recently got married and hers were beautiful!
Figgie Shoes website here
I hope everyone is enjoying planning! And if this has been posted recently, I'm sorry!