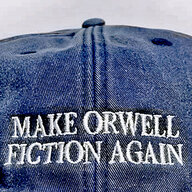 Joined

Apr 30, 2005
Messages

32,484
People want to know if a stone is "eye-clean".
I find this kind of subject to be very interesting.
It is a good example of something where people have expectations that just don't match reality.
People expect an absolute definition.
But eye-clean really depends on agreeing on a definition.
As Dave Atlas has pointed out eye-clean has no absolute scientific definition.
Whiteflash
has helped the problem a lot by describing reasonable conditions they consider eye-clean, so the customer and
WF
can start out on the same page.
But as Dave Atlas said there are a few of those X-Ray Vision people walking around with super-human ability to spot faint inclusions with the naked eye.
Then there is me.
My 50-year old eyes do not have X-ray vision.
But I do have what I'll describe as an X-Ray Personality.
I am the type of person who is obsessed with understanding certain things.
It has served me well in my career.
I'm an engineer who frequently must analyze things under microscopes and draw important conclusions based on my understanding of what I see.
This makes me a diamond customer from Hell.
Fortunately I am willing to go with VVS stones, but I still put them under our laboratory microscopes.

I understand the 10x loupe grading standard, but I just love to understand as much as possible about the diamond I am buying.
I'm just making the point that customer personality is a factor.
People vary.
But educating them about the 10x loupe grading standard should put the nit-pickers in their place.
That said I recently got a lesson about the super-human skill those gemologist at GIA and AGS have with their loupes.
My VVS2 asscher has 4 or 5 tiny faint inclusions under the table that I could not find with a very fine 10x loupe.
Only after locating them with a fancy stereo microscope at 66x and understanding what I was looking for could I find them with my loupe.
Even then the light had to be just right.
So I think even the "10x grading standard" is somewhat squishy and dependent on the skill and experience of the person.
The whole subject of clarity, customer's expectations and visual skills, and sales is very complex and nuanced.
I must say that John Pollard of
Whiteflash
and Rhino of
GOG
have been very understanding and patient with this customer from hell with microscopes from heaven.
Of course, my checks don't bounce.
That helps.