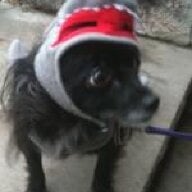 Joined

Jan 4, 2011
Messages

362
I've been trying to keep calm and to take things a day at a time but things are starting to get out of hand.

We JUST got engaged a little over 2 months ago but we're making great strides already- we have our venue booked, the food, drinks and cake is all included, and we're starting to meet with other key vendors- we're chugging along. At first my mom was OK- she gave her opinion on a few venues and ultimately told us we should book ours. Then she got very finicky.

We must get seat covers. We must have a limo. We absolutely need the bridal suite. When I told her I wasn't very interested in any of that stuff (not saying no- just saying, I don't think so) she freaked out. Who's carrying the rings down the aisle if not a junior bride and ring bearer (Umm... the maid of honor and best man-- no biggie)? What other kinds of photographs are there if they're not posed (candid...)? When I told her I found an officiant who I liked (which by the way, hiring an officiant is so foreign to her) she asked me why I liked them. I told her I saw one of his videos on his website and I liked his style. I liked that he had a personality and that he played the guitar. She freaked out- he plays the guitar? Yes... he can play at the ceremony if we wanted... Well that sounds ridiculous to her. Then she went on to call my wedding "casual" and say that she was shopping for sun dresses to wear to the wedding. Why would she say that?

When I talked about gown shopping with her when I come to visit she said that she would "need to see"- that's her favorite line- "I'll need to see" or "we'll see". Last night I finally told her, there's nothing to see mom, there's no discussion- this is my wedding- my choice. I'd like her opinion but her snarky attitude has go to go. I asked her what about my wedding seemed casual? What makes you think that I'm throwing together some piecemeal of a wedding? She really had no answer and just kept saying that from what I had described to her it sounded casual. I was so angry. I've tried very hard to create an idea of a rustic/romantic wedding without the country vibe. We just decided that we could go either way for our venue and we wanted to keep it a little more on the refined rustic side (even though country would have been sooo fun to do- it's just not us). We even thought we might put a formal dress code on the invite because we wanted it to be a dressier affair but since it's a day event we thought that it wasn't fitting. I'm just super annoyed.

She's said things like "I don't have any other chances- you're the only one" or "I have to show my friends the pictures". It's rude, it's mean, it makes me feel like a child and like she doesn't trust my judgement. It's annoying and it's so hurtful. I want to call my mom and get excited about flowers but I don't want her to suggest that I just go with daisies since I'm having such a casuaaaaaal wedding (she said it just like that). I know at first I tried to shy away from a traditional wedding but you ladies really made me see that it wasn't about something being traditional or not- it's just about what you want and are comfortable with. I happen to hate limo's, big wedding parties, tossing the bouquet and the wedding cake smash (as I call it). But I love that the first time my FH will see me is when I walk down the aisle, I love sleeping in separate quarters the night before, and I love all the first dances and speeches. I want some typical wedding things but just not all. I just wish she would go more with the flow and not automatically think all my ideas are tacky or "casual".

I'll be seeing her this weekend (and trying to keep all wedding chatter until then on hold) and will be showing her a more "complete" picture of what I want for my wedding. But what happens if she hates it and starts being mean again? Do I not discuss the wedding with her? This is really making wedding planning such a drag for me... Sorry for the rant but I need support!!