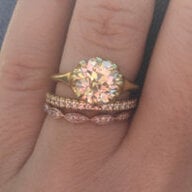 Joined

Mar 20, 2003
Messages

3,369
Wah, I''m waiting for the on-call doctor to call back to get my prescription, but I don''t think my symptoms really add up . . .

Last Sunday/Monday I woke up with a really bad sore throat. I thought I was just getting the cold my husband had had for a week, so I went into work. Then I got chills and had a low grade fever, so I thought I was getting the flu.

I stayed home Tuesday and went to see the doctor. The in-house strep test was negative, but she said someone else had had strep C and they could only test for A and B, so she''d send away for the other test. She also thought it could possibly be mono.

I stayed home from work for two days, by which point I had definitely eliminated the flu, so I thought I just had a nasty version of my husband''s cold. I went back in on Thursday, seemed ok, then lost my voice Friday.

I thought I just lost my voice because I''m a teacher and I talk a lot and loudly. I was surprised when my voice didn''t return by the end of the weekend.

So now I''ve spent two more miserable days at work. I''m coughing up all sorts of phlegm and am very congested. I still have no voice.

Then I checked my voicemail and had a message from the doctor saying I do have strep. They can''t tell what kind, but the test was positive, and I should get treatment.

So I was a little frustrated to have gone to the doctor one week ago today and to only just now find out I''ve been highly contagious the whole time.

But what I don''t get is the cough and congestion. The descriptions of strep I''ve found online all stress "absence of cough." Well, I have one. And lots of snot. And my throat really only hurts when I have a bad coughing fit. It doesn''t seem to be hurting on its own.

Is this just because I have some mutant only-diagnosable-in-far-away-lab strep? Or could I have a bacterial infection (strep) and a viral infection (like my husband''s cold) at the same time?

I''m just really frustrated. It''s the week before exams and the end of the semester, and I just don''t feel like I can stay home from work. And even if I did, I''d just sit around being just about as miserable as I would be at work anyway.