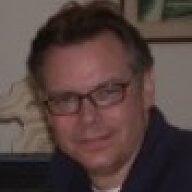 Joined

Sep 25, 2002
Messages

4,924
-----------
is it because you don't consider it important (strain)? or because you
don't think it exists ?
-----------
The main reason I don't include a strain report with my appraisals (unless requested), is because there are no studies (to my knowledge) which quantify the effect of strain on the durability of a diamond.
There's just not enough information out there in my opinion to cause a beautiful diamond to turn into a leper because of (quite pretty, actually) interference colors when examined through crossed polaroids.
In the 24 years I've been involved in the diamond industry, with the thousands upon thousands of stones I've bought, sold, examined, appraised, and heard of, I've yet to hear of one stone breaking on a customer's finger because of strain.
With that kind of record, I feel it's alarmist to put a cruel and unusual stigma on an otherwise gorgeous stone.
I would need to see documented studies by nationally recognized leaders in the gemological world citing strain as a realistic problem, and a consistent manner of quantifying the extent of the problem (such as minor strain, moderate strain, strong strain and very strong strain), before I would begin issuing a standard reporting of strain. As far as I'm aware there are no such studies or research on this issue as of yet, probably because nobody has considered it as much of an issue until now.
I do think now that strain is becoming an issue, these studies should be done posthaste to definitely determine how detrimental strain is, if any, and how to quantify it in such a manner that an appropriate discount could be made for the degree of strain a diamond contains. Something similar to the discount system presently in place for fluorescence. "Minor strain" stones will perhaps trade at no discount, while "moderate strain" might trade at say -2 to 3%, "strong strain" -4 to 6%, and "very strong strain" at -7 to 10%.
Once it's quantified like that, I think the fear bugaboo will be removed from it, and you'll see consumers (and dealers) starting to look for strained stones as a bargain, like they sometimes do now with stones having strong fluorescence.
If I were a vendor, I'd go ahead and have every one of my stones checked for strain, and put it right in the site along with the Sarin report and
IdealScope
photos. Then I'd show a discount for the stone if it contained strain, as outlined above. That way, you're tackling the problem head on, and showing yourself to be at the cutting edge of disclosure and pricing.
I'd also check every stone before purchase, and only accept the strained ones with the same appropriate discount.
It's probably going to come about anyway, so why not beat it to the punch? I've already personally witnessed the rejection of gorgeous stones because of this last minute "surprise" in the analysis of the stone. If you handle an objection right up front in the sales process, it becomes a non-objection, and another stepping stone to concluding a mutually satisfying sale.