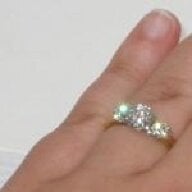 Joined

Dec 12, 2008
Messages

1,557
Date: 4/22/2009 1:41:17 PM
Author: sweetliloldme
okay so now what? have ANOTHER conversation with him, tell him that I feel like he''s making excuses..ect,. (i feel like ive said everything i can) then get the ''let it go, your going to ruin the suprise.'' Then I say no, because you''ve had the chance to surprise me and you don''t take it. I already know that the conversation is going to go no where. I''m still going to get the same answers that I keep getting. Any thoughts as to how I can get new ones? Like I said i''ve said everything i can think of, and i need some new ideas.
Sweet,
I really am sorry you''re going through this. Maybe the answer is that this time you need to do the talking. First figure out what it is you''d like from him - commitment to get married this weekend, to go down to the courthouse tonight, etc.
Tell him what you''ve been telling us, why marriage is important to you, what his procrastination is doing to you. Then let him know what he needs to do because you''re not going to just keep bending to his will. Tell him you have a plan for if he decides not to marry you and that you''re prepared to implement it.
Stay firm...If he says "but I want to surprise you - you''re ruining the surprise," then say "you''ve had the opportunity to surprise me and you haven''t. I will not wait for a surprise proposal any more. If you want to marry me, then you''ll go down to the courthouse with me tomorrow."
You''ve given him plenty of opportunities to do things on his terms.