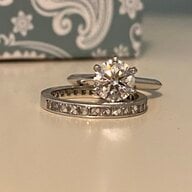 Joined

Apr 11, 2011
Messages

897
I've spent WAY more time than I'd like to admit since getting engaged two weeks ago thinking about what band would go with my e-ring. I have a lovely 1.5 ct H/VS2 set in Vatché U113 and on the advice of an awesome pricescoper I'd like to let my e-ring be the star of the show. With that in mind, I've looked through countless threads for ideas. In the end I've come up with a list of a few different bands I'd like to have - I expect I will accumulate them over the first few years of our marriage.
I actually love the look of a narrow (2-2.5 mm) channel set band with step cuts (carre or asscher). I want to go with 3/4 eternity as I'd like for it to be resizable. I've found LOTS of full eternity in that style, but no 3/4, so I'm starting to think this may be a custom project.
Any suggestions as to who would do a nice job (and has access to step cut melee) for a reasonable price? I'm trying to make sure my frugal accountant fiancé doesn't think he's made a mistake in choosing me as his life partner
. Alternately, if anyone has seen what I'm looking for available for sale, I'd definitely be open to that!!!
Gratuitous ring pic: