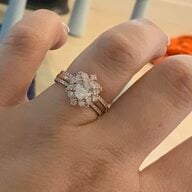 Joined

Aug 7, 2019
Messages

314
Are you considering a purchase at Brilliant Earth? Read this!
I decided to upgrade my engagement ring and wedding band and I found a diamond I liked at BE so I called & put it on hold. There was a fee to place a diamond on hold which is something that Blue Nile, James Allen and High Performance Diamonds all do for free (at least, at time of writing). The fee was $150 for 48hrs or $300 for 6 days. Not wanting to rush, I used the 6 day hold certain I'd find a BE setting I liked.
**They don't price match. I found the exact same stone somewhere else & they wouldn't honor the price. They also charged me the hold fee 3 times! They told me they made a mistake and ran my card twice but that they would refund the extra charge. What they didn't tell me was that they actually ran it 3 times. It wasn't until I looked at my credit card statement did I realize they hit me with 3 $300 charges instead of 1. They did refund both extra charges.
While BE did have some settings I liked, I absolutely fell in love with a setting elsewhere. I cancelled the stone I had on hold and was told the $300 would be a credit to my account that I could use within a year. I wanted earrings too, so within a week, I placed an order for a pair of studs.
**They over charged me by $230. I realized this when I checked my credit card & it didn't match my order. I called and was told that the price of my diamonds was more than what was listed on the website & in the email confirmation I received. After some back and forth, they agreed that they owed me a refund. A few days go by and no refund comes so I call them again. The rep confirms it wasn't done so send sends the request off to be fixed.
So now I wait for my studs hoping that my troubles are over. I receive them on time and notice another issue (Sept. 19).
**They didn't send me the Gia certificates (2) or appraisal for my item. I call BE again and they explain it is sometimes sent separately. They will have somebody email them to me and mail out physical copies.
**I go back to looking at my new earrings & I see a black spot on the post. Then I notice holes where the post meets the setting. The other one is fine so I know this is not normal. I call & set up a return. I receive the return authorization & it states that they will charge $250 for any Gia certificate not returned (the ones they haven't sent me yet). I send more emails and wait for a reply.
**Nobody emails me back about these Gia certs. so I send the studs back without them the next day. Another day passes and still no response about the Gia certs. so I go onto their online chat where a rep tells me that they are no longer going to send them, and that I'm off the hook (Sept 20).
**The following day (Sept 21) I get an email confirming again that they are NOT mailing me these documents because I am returning the earrings. While I'm glad to get all of this in writing, the following day I get an email asking me for my address & saying that they are ready to send me the documents. They've had my address all along and I've had multiple people tell me the certificates won't be sent, but now they want my address so they can send them. Maybe you can make sense of this, but I certainly cannot!
Sept 22 - earrings arrive back to BE.
Sept 27 - I follow up via chat and they say refund will be issued today **It doesn't get issued**
Sept 28 (Sat) - I inform BE that I am giving them until end of business day on Monday to process the refund or I will be contacting my credit card company for a chargeback. To be continued when I know the end of this story...
Other notes:
Document everything you do with BE. If you are struggling with them over an issue, they may ask you to sign an agreement in exchange for your refund, stating that you will not post a review of them publicly. There are multiple accounts of this on yelp and this is just from the people who didn't sign it and are willing to speak out. How many people have agreed to these terms and are afraid to tell their story? If you are in this situation, you can open a dispute with your credit card company or try small claims court, instead of signing their agreement. Know your rights: https://www.ftc.gov/tips-advice/bus...review-fairness-act-what-businesses-need-know
Their faq state that they can make things in different metals (with the exception of silver). I asked about having some earrings made in rose gold that were offered in yellow gold but they said they can't do this.
In the return authorization email I received, there are instructions that directly contradict each other. In one section it says that I do not need to return the materials sent with my item and in another section it says that I do. How is anyone supposed to follow instructions that make no sense?