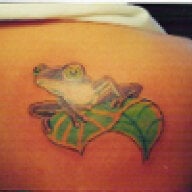 Joined

Dec 12, 2008
Messages

10,615
Ha, remember months ago I swore up and down I was going to START? Yeaaaaahhhhh my tomorrows last a long time I guess.
Anyway, I DID start finally! I did the hcg diet for a month and lost 16 pounds (tho I've gained 2 of those pounds back trying to get used to eating again), and now I've bought Insanity and started that today. So, I'm not really super far into my progress or anything but still jazzed to have finally started. I did my first Insanity workout just now (there was a Fit Test I did yesterday) and I've never felt so good about sucking so bad at something before. It was only 40 some minutes long but I had to take a million water/rest breaks and just walk away from the tv and wipe my forehead. Laughing and smiling the whole time. I am exhausted and feel kinda like I have noodle muscles but it's a good feeling.
Hopefully this is the start of something good!