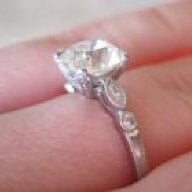 Joined

Jun 26, 2007
Messages

3,081
I've sent quote requests to JBEG, Leon, and SS for my wedding band, but I figured I'd ask all of the knowledgable PSers for help!
I'm attaching a picture of my ring, for those who have not seen it before.
I've gone back and forth on which design to go with. One option is to have a round and marquis, similar to my e-ring alternating. Bezel set and with millegraining-- obviously the more "matchy-matchy" look.
When I was trying on, I fell in love with a ring similar to this
http://jewelsbyericagrace.smugmug.c...rnity-Band/16865208_Nn4Jpt#1273371238_PLvwBM9
JBEG setting-- all bezeled rounds with millegraining.
Any votes for which you guys think would look better? Or, does anyone have an idea different from what I have thought of? A band that is straight, and doesn't go in and out is not an option, it looks odd with my ring.
Thanks!