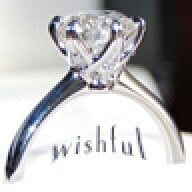 Joined

May 20, 2008
Messages

723
My Fiancee''s mom has a star sapphire ring set in white gold that she is lending me for my upcoming wedding.
We just got it today and after doing some research on here I am wondering if it might be synthetic.

Here is the info I have:

It was purchased in the late 60''s from Zales for $250.00 (price includes the setting)

It looks pretty perfect to me. Nice medium/dark blue, very even color. Star is not centered quite perfectly but is pretty close. And it does move as I turn the ring.
I checked under the stone and it does not have the "Linde" L anywhere however I would venture to guess that if it was sold by Zales and it was synthetic it was probably their own brand.

Any input?