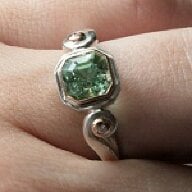 Joined

Apr 16, 2009
Messages

515
I've had a sphene from multicolour on my wishlist for many months now. It's still available so I'm thinking of purchasing next month possibly (if it's still there).
I think some of you may have bought sphenes from multicolour in the past. Would you mind posting their picture vs. your picture? I'm trying to figure out how this particular sphene might look in person. I would post a pic of the one I've been eyeballing, but you guys know about lurkers, and this particular stone isn't expensive so that makes me even more afraid. Actually, if you have a sphene, even not from multicolour, please feel free to post pictures.

I know sphenes are very soft so probably best suited as a pendant. And they have that cool double effect...what's that called again? Anything else I should know? What colors are more desirable in sphene?
TIA.