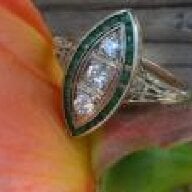 Joined

Aug 5, 2010
Messages

12,743
Now that I'm on my way to figuring out the picture thing, I planned on having a big photo shoot of some of my rings. So I get out a toothbrush and warm soapy water to get them all ready for picture day. I soak and scrub and take them outside for their big debut. And that's when I see they're still dirty. I think the technical term is schmutz.
I soaked them and scrubbed them for crying out loud! How can they still have dried bits, and fuzz and stuff caught around the prongs? Photo shoot was cancelled.
So what do you do to get your mounted stones really clean? What more can I do?
I am sorry I don't have pictures for you - talk to my uncooperative kids about that.