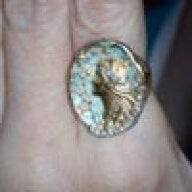 Joined

Dec 15, 2009
Messages

1,641
Last winter I had a harasser/stalker who managed to get into my computer somehow and 'hacked it" and got my credit card info. He knew exactly when the husband wasn't home. I called the police after a few calls and while initially I wasn't taken too seriously, the follow-up cop warned me about internet security. Since I am a complete dinosaur anyway, I don't really concern myself with it as I have only a few sites I visit and NEVER reveal much about myself.

Last weekend I asked my son to do some shots of my jewelry as I had just had a manicure AND had taken some time to clean my rings and wipe my pearls.I wanted to FINALLY post pictures as I have been posting here and haven't really posted anything. My husband, who is an easy going man, got very upset and said he didn't want me putting this kind of information on the internet, that any wacko or thief would be able to track me down, didn't I learn anything last winter, and so on.

So that made me wonder--do any of you who actually post your gorgeous pieces ever worry about security? Are you confident your identity will remain hidden?